Welcome Everyone!

I have meant to remind all my pals who are in recovery to "Join" me and many wonderful recovery friends here on Twitter every WEN NIGHT for #ADDICTIONCHAT!
.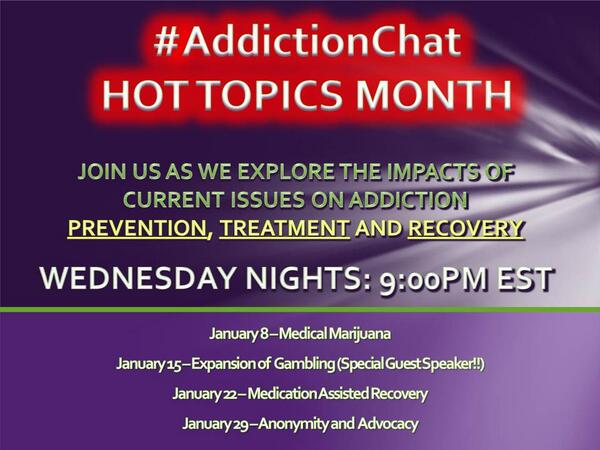 .
AS you can see, will be exploring the "Expansion of Gambling" addiction, Casino's, State Lotteries using PROFITS to FUND STATE BUDGETS! and More. The impact this has for those who are in Recovery, Treatment, or Therapy for Problem or Addicted Gambling. I'll let you in on a secret…..I think,….I maybe the *Guest Speaker* on Jan 15th!! I will not leave a stone unturned of the TRUTH about addicted gambling. This is a learning and educating "One Hour Question and Answer" talk about addictions. Even if you're not in recovery, it can help raise awareness, shatter STIGMA, and let people have insight into the impact ALL addictions have in our Communities!
.
So I hope you will come and join us any "Wen night at 9pm Eastern time, 6pm West Coast time, and if you live in Arizona" like me? 7pm!
All you do is sign into your Twitter account, go to #Addictionchat and click on "All" tweets, there you'll see #Q= questions….and we use #A= for your answers or comment to Q1-Q2-and so on,  always use Hashtag #Addictionchat so your answers will show up.
.
THAT'S IT! If you have Questions about #Addictionchat on Twitter, Please Feel Free to Email AT tomcatt59@yahoo.com
We have had some *Special* people stop by. I have worked on getting "Actor: Eric Roberts" as he TWEETS me sometimes, and we would LUV to get "Ozzy & Sharon Osbourne" to stop by as well!
Follower BOTH "MY TWITTERS" at.. @LUV_Recovery  and @kitcatlyon …..
So if you're in recovery from any type of addiction, work in the field, or just want to become MORE Aware or Educated on how addiction hurts our kids, adults, Moms, Dads, Sisters, Brothers, Families, come join us. WE'D LUV TO SEE YOU THERE! **Please share this Blog Post to others too!**
.
GOD BLESS ALL!,
Author, Catherine Townsend-Lyon
http://www.amazon.com/dp/0984478485
"Addicted To Dimes" (Confessions of a liar and a Cheat) My current book!