Hello Recovery Friends, Seekers, and Welcome New Visitors,
.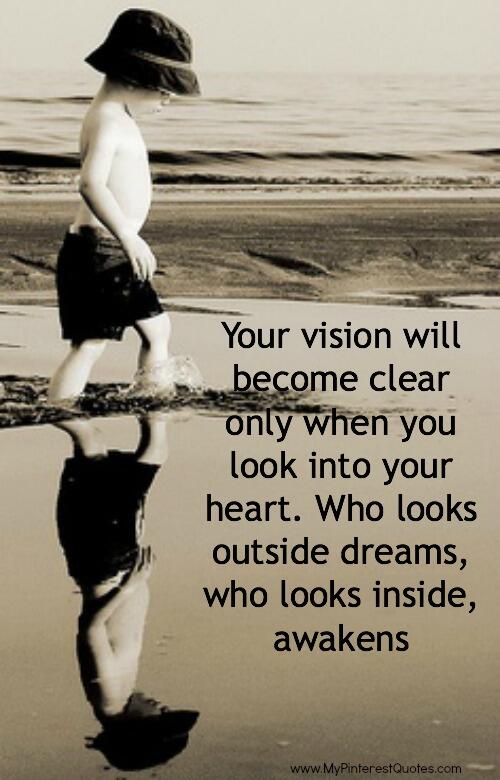 .
I happen to see this today on my "recovery twitter" and began to think about my life a little. As many of you already know where I have been, I thought I would share some positives of what recovery has given me…..
.
As it states on the poster, "your vision will become clear, only when you look inside your "heart."
That is a very true statement. When we begin our recovery journey, we feel as though we have no idea where to really start.
At least IT'S how I felt. And as I look back at that time in my life, that day I stood before a "Judge" to hear my punishment for crimes I'd committed, courtesy of my gambling addiction & poor choices, I thought to myself, "never again will I ever be in a courtroom." Never!
.
Sometimes we need to have something that gives us motivation to be ready to turn away from our addictions and reach out for help. That day in court was my day. And the Judge must have read my thoughts, because the last thing he said to me was, "Catherine, don't disappoint me." And I can tell you I didn't. He offered me a 2nd chance at life, as he also told me, because of my background in "Banking" for many years, and no earlier criminal record, and that I'd had been a good citizen before I got tangled up in "Addicted Gambling," that he wanted to give me a 2nd chance. That if and when I completed my 30 days jail time, hours of community service, 18 months probation, and pay my fee's and Restitution, I could come back to court and have this "Consequence" sealed off and my criminal record closed.
.
Well I don't have to tell you that I did exactly that! The BEST DAY EVER for me was just before I relocated from So. Oregon, here to Arizona. I had stopped by the courthouse armed with a copy of my NEW Published Book, "Addicted To Dimes"  to drop a signed copy off to the Judge. He happen to be in between case's, so he took the time to visit with me for an hour! I asked him if he remembered me? He said of course, the Banker! He asked how things were going, so I shared all the wonderful things that have happened in my "Recovery Life." I was SO proud to tell him all I had accomplished since that day he sentenced me on Jan 29th, 2007. I gave him the book, and he said how proud of me he was, and that he knew I would do good things with my life!
.
Needless to say, I was walking on cloud 9 when I left the courthouse with a tear in my eye. All the hard work, meetings, treatment, therapy, and working my 12-steps was really elevating my life to do good things for others and myself. For me, helping others and sharing the of *HOPE*to them,  and no matter where we start recovery from, we can recover! So a few things that I'm "Grateful" for in my recovery, and for the work I put in still today, helps me grow in my recovery. By being of service to help others looking to recover, or struggle, is now my life's work & mission! My recovery also gave me my "Fire Back" as a writer, and I enjoy my "Craft & Passion"……
.
See I used to write before I became an addict. I loved writing poems and short stories just for pleasure. But since writing & my book being published, I have reached a personal goal as a published author, and I never thought I would make that "DREAM" come true. But my life in recovery helped me do that! I continue to "Write and Journal" everyday. Then learning about blogging has also been an amazing blessing for me. I'm able to reach MORE people to share recovery with others. That means a lot to me since being diagnosed with several "Mental &  Emotional disorders that hamper me from public speaking and limits my book signings. But I am OK with it. I push myself each day to be out in "Recovery Cyber-Space" to inform, encourage, raise awareness, and help shatter stigma from all types of addictions, mental health, and abuse survivors. This is another way my recovery has enriched my life.
.
When you think you can't take anymore, or you feel "stuck" in recovery? The best thing you can do is to get "Outside" of yourself. Think about others who maybe having a harder time than you. Learn to be comfortable to pick up that PHONE when you're having urges, and call and talk to someone until it pass's. It does work! especially you men out there. No, I'm not picking on you, but what is it about men who don't like using a phone? I'm married to one!…LOL.
.
I have always been a strong believer that we each have the power to become who ever we want to be! Of course, help from our Higher Power also makes that a given. We in recovery really DO have the strength & power to lift ourselves out and up from any situation that addiction may taunt US with. We need to USE the Tools & Skills that we are taught. Yes, I do remember those crap days when the "Urges & Triggers" seemed to pull you and seem to never end. I felt like many, on those days I'd never see long-term recovery. At that point it just seems impossible. I get that. But I'm here to tell you that, YES YOU CAN! From where I was 7 years ago, I scratched and clawed my way back to a better life because I WANTED MY LIFE BACK! I was SO tired of living a LIE. Tired of doing the same damn thing in my addiction and hoping for a different result that NEVER CAME….
.
I to have been "blessed" with a wonderful man in my life that never gave up on me through worst of my addictions. He came close a few times to leave, and I wouldn't have blamed him if he had. But another recovery blessing is that we will "Celebrate" our 25th wedding anniversary this coming September. So I'm grateful that my marriage has stayed in tact through all the madness. How DO you do that you ask? Man, that's another BIG Blog Post I'll write soon! Because we all know how hard "Trust" is to regain when we enter recovery. "It takes work and time."
.
I hope I was able to encourage you today in your own recovery. To never give up, because YOU ARE WORTH a wonderful and happy life in your Recovery!
Yes, it is all about taking that very first step. Step #1 in the 12-Steps,…..to admit to yourself and to another that YOU ARE POWERLESS over your DEMONS of Addiction. If you can honestly do that? Your on your way to a much better life!
.
GOD BLESS EVERYONE,
AUTHOR, CATHERINE TOWNSEND-LYON
http://www.amazon.com/dp/0984478485 "Addicted To Dimes" (Confessions of a liar and a Cheat)