Hello Recovery Friends, Seeker's, and Welcome New Friends!
Just a reminder and this months #ADDICTIONCHAT SCHEDULE for MARCH is here!
.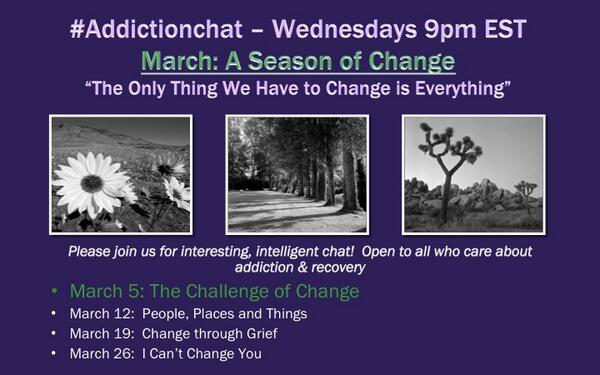 .
EVERYONE is WELCOME to come join me and many recovery friends, professionals, addiction specialists, for TWEETCHAT every WENSDAY NIGHT on TWITTER. It is an hour-long Q & A discussion about all types of addictions and recovery topics. Even if your NOT in recovery or have any addiction, it's open to all who want to understand what addiction is all about and how it is effecting their "Communities"! We try to "Raise Awareness, Inform, Educate, and Share."
.
The times are as follows: 9pm ET,  6pm PT  and all you do to join in is go to http://www.tweetchat.com/Addictionchat  SIGN IN and your ready to go! It's that easy. It's a live stream. In the EVENT Live stream  is down, then just go to  (#hashtag)  #Addictionchat, click "All" and you'll see everyone there. SO I HOPE you will come join the conversation, because it is time to "Talk About Addictions & Recovery"! That's how *STIGMA* is shattered!
.
God Bless Everyone!
Author, Catherine Townsend-Lyon 🙂
http://www.gofundme.com/5zeqjo Come Support my Recovery!