Hello Recovery Friends & Welcome All,
.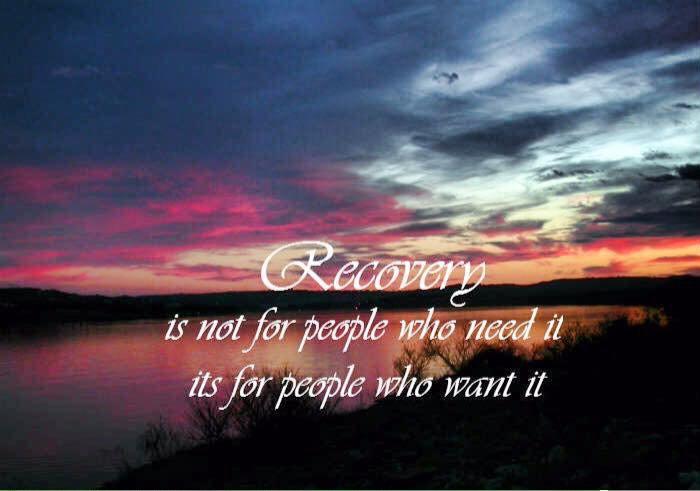 .
Recovery Is A Choice ~ And You Have To Want Your Life Back!

I've been off the grid for a week or so, as it was time for me to get out of the house and try some of the life skills I've learned to manage my disorder of agoraphobia, and getting a little taste of what the State of Arizona has to offer. I spent some wonderful days with my hubby as we went up North to Sedona and the Grand Canyon. I thought "Gods" country was only in the State of Oregon, but I was so wrong! It was so beautiful at both places. We stopped in Prescott to see my husbands sister's old house they had built, and had raised their kids in. She had passed away a year ago due to intentional drug suicide of her psych-meds. We are still in a bit of shock over this a year later, but it brought back special memories for my husband of her, and we miss her so very much.
So I thought I would share how my summer and early fall has been, and what all I have been up to. On the personal side, I have started the phase of my Bipolar and Depression meds being changed. I had another full physical, and my liver count and cholesterol was to high. My psychiatrist thinks I have been on a couple my bipolar meds for to long, as psych meds can contribute to this problem. It's why they do blood tests on me every 6 months. See, it can be pretty challenging to have to deal with all this when living in recovery, and having mental/emotional health problems. If I was still gambling and drinking, I wouldn't be in the frame of mind to care about my health over all. That's another area addictions will take away from you.
.
I'm also back in therapy for a while for some PTSD problems again. For some reason I'm having bad dreams again of my childhood abuse and trauma. I have been doing a lot of finishing touch's on my next follow-up book from ~ "Addicted To Dimes" ( Confessions of a Liar and a Cheat ),  http://www.amazon.com/dp/0984478485/
So I'm wondering if it isn't from that, as I have revisited some of my past hurt with writing my new book.
It's why it is so important to have a well-balanced recovery to help you be strong over coming the rough spots of life, because for me, relapse is not an option, even though I will always be one bet away from devastation, recovery for me will be a life long journey. But I never thought I would not only get a second chance at life, but an even better life then before I became an addict!
.
.
Now, about my work and recovery side of this past summer, it was  filled with some exciting new 'Guest Recovery Author' 
radio shows.
The first was on CL Gammon's 'Blog Talk Radio' show,
http://clgammon.webs.com/
  and my favorite radio show I've done a few months ago was on 'Peoples Internet Radio' ~ Cancel The Cabal, by host:
Stephen Roberts
.  It was a 2 hour live stream interview on several broadcasts. We had many listeners as far away as the UK, Scotland, and Ireland! We also ahd callers and people on Facebook & Twitter asking me questions about my book, my recovery, and more.
.
Here is the 'Podcast Link' if you'd like to here the whole interview:
Addicted to Dimes (Confessions of a Liar and a Cheat) Author Catherine Townsend Lyon
  … Stephen and I talked about many aspects of gambling addiction, problem gambling, expansion of gambling Casinos and State Lotteries. From government making profits, to fill budget short falls, to how addicted gambling impacts our communities negatively. I shared a little of my book and story of how gambling addiction and alcohol abuse cost me way more than the money, it almost cost me my 
life!
And I happily shot down all the
myths
of the detox and recovery treatment process one goes through when staring recovery. How to stay away from relapse, and much more! Those 2 hours just flew on by!
.
.

.
.


.
Also this summer, I hosted my  recovery #Addictionchat I attend on Twitter 2 times this summer. Many of us in recovery, or work in the addiction and recovery fields come and talk about addiction and recovery from all types of addictions through our twitter accounts. It's how we inform, educate, and raise awareness about all addictions.
.
We decided not to take the summer off , and it was a lot of fun hosting. And yes, of course my topics were about problem and addicted gambling, and what helps me stay in recovery. So all my recovery friends & readers who visit are welcome to join us if your on Twitter. We meet every Wed night on for an hour-long Q & A session.
The times are 7 pm MST,  6pm PT, and  9pm ET …. It's through Twitters TweetChat service link: http://tweetchat.com/ This is an easy live stream feed.
.
Another important activity I continue is my recovery journey as a  'Guest Blogger' at Addictionland. It was started by Founder & Author, Cate Stevens. And  her new book also has released, and is available on Amazon Books, Barnes & Nobel Books, and on her helpful recovery/addiction website. There are many well-known guest recovery bloggers who share their experiences, strength and hope.
You can visit both and subscribe to any blog that you find helpful. Here is my blog link there: http://www.addictionland.com/kitcatlyon/ Becoming a member is free too!.


.
ABOUT CATE STEVEN'S BOOK:In this memoir, an upper middle class girl voted best looking and most likely to succeed develops and overcomes multiple, life threatening addictions. Addicts struggling to get help because of the stigma of addiction will connect to these powerful vignettes. Available Now!  Get the Book.  …
.
Now my next project was very exciting, and an honor to be interviewed, and be included in as well. It's a well written, well-rounded, and well researched article about problem and addicted gambling's cost to our public heaths in our states, which became a major media release article from Columbia University, NYC. It was researched and written by: Elaine Meyer, of the Epidemiology Dept. of Public Health there at the University. There were many wonderful, important contributors that were interviewed by Elaine.
She not only shared part of my story in her article, but she also shared my direct book link to Amazon too! Among those interviewed and shared beside myself were,  Arnie & Sheila Wexler & Associates, Les Bernal of Stop Predatory Gambling, and many more. Arnie himself has been on many major news broadcasts like, 60 Minutes, ABC's Nightline to names a few. It was picked up by many national newspapers as well. It's a fascinating, in-depth look into the gambling industry.
The title and link: Gambling with America's Health?  It looks at all angles of how problem & addicted gambling has on our public health systems, costs, negative impacts on our population and local communities, and how now it's even 'touching' our High School & College young adults.
.
AUTHOR BIO
Elaine Meyer has worked as a journalist covering education and legal news. She graduated in 2009 with an M.S. from Columbia School of Journalism and is currently the associate director of communications for Columbia's Department of Epidemiology, where she carries out the department's mission of translating public health science to the larger public. Follow her on Twitter  @emeyer5 …
.
Now my next fun project was just resent.  I was given an exciting opportunity to write for the fine folks at Florida Beach Rehab and Treatment Center. They have an In Depth section of many helpful articles to read, and how others come share their addiction and recovery stories to others who visit their site. Welcome to Florida Beach Rehab, an addiction treatment center: http://www.floridabeachrehab.com   It is a great place to get clean and sober. They have excellent service for those who have dual diagnosis like myself when I first sought treatment for gambling addiction and alcohol.
.
They have asked if I'd like to write and share my story of addiction, dual diagnosis in both addictions and battle behavioral and mental/emotional illness. It can make recovery a wee bit harder to overcome addiction, but it's one of the area's the helpful folks here at Florida Beach Rehab can help you with.
My first article just so happens to be about this very topic; "How Behavioral Health Has Helped My Recovery" (the article link):
http://www.floridabeachrehab.com/how-behavioral-health-has-helped-my-recovery/
So I appreciated the invite to write and share my experiences with them on their website. Give them a call if you or a loved one needs help with addictions at: 1-877-593-5545, and they are located at: 4005 North Highway A1A  Hutchinson Island, Fort Pierce, FL  34949 … And you just never know? There just might be more articles to come.
.
Also this past summer, I began to really open up more, and have embraced more about my mental/emotional health issues. I got the chance to meet more new friends in recovery, and other new friends who also suffer with mental and emotional health and disorders. I've also done more work with others who have been through childhood trauma and abuse like myself. There are many wonderful websites and support groups out there to help. But the stigma around all these important issues is still huge. But for me, it's important to let others know they do have a voice, and they are not alone, just like those in recovery from addictions.
So that's pretty much what I have been up to this past summer and early fall. With my next book offerings, I have book 2 completed, and almost ready for publishing. Here is a Sneak Peek as the title will be, … (drum roll), LOL.
.

"I'm nobody, but I have something to say Damn It"!
(How to recover from gambling addiction, live with mental illness, and how to process childhood trauma).
Your thoughts on my book title?
My current book also has recieved more 5 Star Amazon Reviews to this summer.
.
Lastly, I have started a new venture in Book & Social Media Promotions on my new WordPress blog: http://anAuthorandWriterinProgress.wordpress.com
.
I offer affordable book and social media promoting services, and represent several fine authors. Come by and meet some pretty wonderful authors and their reads. I'm adding more interesting pages to this blog often. I even share my book reviews there too! So if you or someone you know has a book out, or one coming out soon? Please share my Lyon Book & Social Media Promotions blog, and have them check out my services page. I'll make you and your book shine across the worldwide web.
.
So now I have shared all my recovery news, author and writer goings on this past summer, early fall.
So, …  how about telling me about yours? What did you do this past summer?
Much Happiness & Blessings Friends,
Author, Catherine Townsend-Lyon
http://www.amazon.com/dp/0984478485