With March being National Problem Gambling Awareness Month, I try to have a few special events to share on my blog, like the one I'm about to share. I happened to be on my recovery Twitter @LUV_Recovery when I saw my Tweet Pal, former WWE Kurt Angle's podcast episode clip by KDD Media. I had no clue who KDD was but wanted to support them and Kurt with some retweets.
When Kurt's show was released, I went to take a listen and watched it over on KDD Media's Kick-Ass website ~ Knockin' Doorz Down Podcast at https://www.kddmediacompany.com/podcast/ …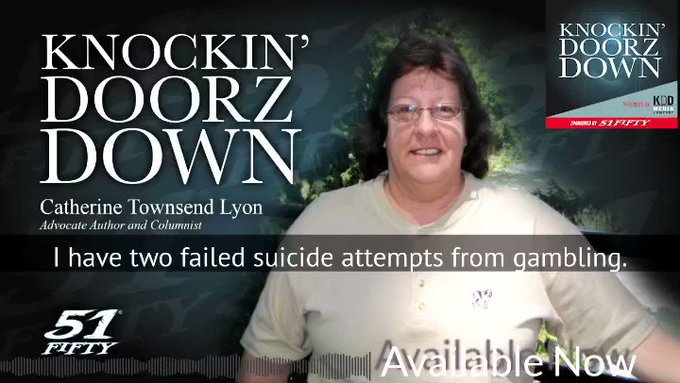 I hope you will listen to my story to have hope that we do recover and encourage you to visit KDD as the guest list and stories are real, raw, and powerful. The real stars are Jason and Mikey! These two guys are a hoot and make everyone feel right at home, including me. On a serious note, this podcast is where listeners can hear stories of overcoming adversity while they too share hope!

"We can help individuals on their walk of recovery, addiction, or overcoming a personal situation."
I thank Jason, Mikey, and Carlos for letting me share my story. ~Catherine





Catherine Lyon | From A Suicidal Criminal Gambling Addict That Nearly Lost Everything to A Successful Author & Advocate for Gambling Addiction‪.‬


Catherine Townsend-Lyon started casually gambling, playing her local lottery. She describes how easy it was to gamble, and the predatory gambling practices in her community. She starting her addiction at video poker terminals in bars and restaurants in the early '90s, playing bingo at church, and buying lottery tickets at the grocery store. This started out harmless enough but eventually led to suicide attempts and financial ruin.
Wanting to escape reality was her main reason for gambling, but eventually, she started lying to support her addiction. She describes how you can't really tell a gambling addict from other types of addicts, because the signs aren't as obvious. But she does give some insight on how to tell if someone in your family is experiencing these issues. Eventually, the money will run out, and you start gambling with your own life.
She describes "The Cycle" of gambling addiction, which eventually got out of control & ruined her life. In 2002, after losing everything, she attempted to take her own life. She opened fraudulent accounts in her husband's name to support her habit. She was nearly divorced, lost her life savings, and felt like her life was at an end. Her husband was the driving force in keeping everything together and helped Catherine get the help she needed.
Eventually, she found her way out of the darkness of gambling addiction. In 2006, she started recovery after multiple failed attempts and was finally successful. After completing community service & court time. She wrote a book "Addicted to Dimes (Confessions of A Liar & A Cheat)" where she describes her childhood trauma, sexual abuse, and the beginnings of her gambling addiction, in hopes that it would help other people struggling with the same issues & shatter the stigma of gambling addiction.
This is Catherine Townsend-Lyon's story in her own words on Knockin' Doorz Down.

This episode is brought to you by PodGo. PODGO is the easiest way for you to monetize your podcast. Providing podcasters with a flat rate for ad space so you always know how much you get when you include an ad from PODGO. Apply today to become a member and immediately be connected with advertisers that fit your audience. And be sure to add Knockin' Doorz Down in the "How did you hear about PODGO?" section of the application!

Knockin' Doorz Down is about those who have turned their greatest adversities into their greatest advantages and passions. Featuring celebrities and people from all walks of life who have experienced challenging times in their lives and how they were able to break through and live a purposeful life with passion, and inspiring others to be their best selves. If you or someone you know is struggling with addiction, mental health, or other areas of trauma, you're not alone.

Hear how those that have been there, broken through and started Knockin' Doorz Down. Hosted by Jason LaChance with a background of family addiction, alcoholism, family trauma, divorce, financial struggles, and depression. Co-host Mikey Nawrocki had struggled with substance abuse issues, along with anxiety, depression, and financial struggles.

If you're looking for weekly inspiration, and motivation to push through those challenging times, subscribe now. New episodes Thursday's, Knockin' Doorz Down.  https://www.kddmediacompany.com/podcast/episode/1c8e65f1/catherine-lyon-or-from-a-suicidal-criminal-gambling-addict

Check-out Carlos Vieira's autobiography Knockin' Doorz Down  ~ https://www.amazon.com/Knockin-Doorz-Down-Breaking-Redemption-ebook/dp/B085Q31JGS/



https://www.kddmediacompany.com/
For more on the Knockin' Doorz Down podcast and to follow us on social media
https://www.kddmediacompany.com/podcast
https://www.instagram.com/knockindoorzdown/
https://www.facebook.com/knockingdoorsdown/
https://www.youtube.com/channel/UCUSJ5ooBFqso8lfFiiIM-5g/
For more information on the Carlos Vieira Foundation and the Race 2B Drug-Free, Race to End the Stigma and Race For Autism programs visit:
https://www.carlosvieirafoundation.org/
https://www.facebook.com/CVFoundation/
https://www.instagram.com/carlosvieirafoundation/