My Thanksgiving Day Spent in AA
By Flower B

I'm not sure how this season feels for you, but Thanksgiving and Christmas are two holiday sore spots for me. There's so much emphasis on family and connection, and everything is supposed to be all warm and fuzzy. My family has never been close-knit, except for my mother and me. I'm single, and I don't have any children. I'm also a Midwest native who lives in Los Angeles. Yet, when it comes to this time of year, I still find myself full of expectations.
My first Thanksgiving in recovery was difficult because I didn't have any relatives to spend the day with like so many of my other friends. Sure, I got invites, but it's just not the same when it's someone else's family dinner. Not having a husband or family to call my own, I just found myself missing my mother.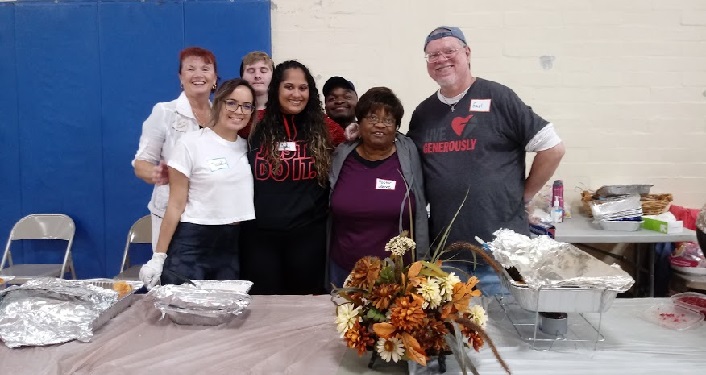 Makeshift Family
Due to my lack of familial ties, I made it a point to stay especially close to Alcoholics Anonymous.
I had a close group of friends who were also newly sober, and we planned to stay connected during the Thanksgiving holiday. We conveniently also found two nearby main meeting halls that were having marathon meetings over the course of several days.
Consequently, Thanksgiving Day began with me and my cohorts visiting AA meeting halls in Altadena and Hawthorne. To my surprise, every group we visited was packed. People were coming in from all over, which was both exciting and inspirational to see.
When we returned to our home group, people were out back playing some board games. A gentleman named Craig, who has since passed to the big meeting in the sky, was in a corner barbequing. It definitely wasn't your typical meeting atmosphere—there was a social aspect to it all that reminded me almost of a family reunion.
Boogie on Down
On Saturday night, there was even a dance known as the "crème de la crème." The hall was transformed into a club with a DJ booth, dark lights, and a dance floor. Getting ready for it was as much fun as attending. I must have danced all night, which was weird in a sense. Rarely had I gone dancing—or did anything fun for that matter—that didn't involve drinking, sprinkled in with some drugs here and there, or any gambling.
I won't lie; I was shy at first. But once the first guy asked me to dance, all inhibition went out the window. Who knew I could have so much fun without alcohol or drugs? There was beautiful energy over the entire room as people danced, laughed, and let loose. All while being clean and sober.


A Celebration
The last day of the marathon ended with what's called "the old-timer's slot," where people with at least 20 years of sobriety took turns sharing their recovery stories. The oldest person there had 50 years of sobriety under his belt. The stories made me cry, laugh and rejoice. It brought me back to a time when I used to be at home listening to my mom, aunts and uncles reminisce.
Once the old-timer slot ended, it was time for the countdown. The person with the most years of sobriety was asked to stand, and everyone clapped and cheered for them. And so, the countdown began. Then, every time a group stood up for the following year, there was a round of applause. The procession continued like falling dominoes.
Though I had a while to wait, I was so proud when my turn finally came around, and I got to stand up for five months. The excitement of the moment only made me look forward to the following year when I would get to stand again. By the time we got to the sober person for only a few hours, the room had exploded. It was awesome.
At the very end of the day, while sitting down to eat my meal at the potluck, a crucial fact occurred to me that I was missing all week long—I was finally home, and these people were the family I was looking for all along and never thought I'd find.


CELEBRATE YOUR RECOVERY THIS HOLIDAY SEASON!