My Guest Article Is By: By Chris Hedges of Truthdig ~ A Nation of the Walking Dead.
Opioids and experiences that simulate the deadening effects of narcotics are mechanisms to keep us submissive and depoliticized. Desperate citizens in Aldous Huxley's 1932 novel "Brave New World" ingested the pleasure drug soma to check out of reality. Our own versions of soma allow tens of millions of Americans to retreat daily into addictive mousetraps that generate a self-induced autism.
The United States consumes 80 percent of opioids used worldwide, and more than 33,000 died in this country in 2015 from opioid overdoses. There are 300 million prescriptions written and $24 billion spent annually in the U.S. for painkillers. Americans supplement this mostly legal addiction with over $100 billion a year in illicit marijuana, cocaine, methamphetamine and heroin. And nearly 14 million U.S. adults, one in every 13, regularly abuse alcohol.
But these monetary figures are far less than what we spend on gambling. Americans in 2013 lost $119 billion gambling, with an additional $70 billion—or $300 for every adult in the country—spent on lottery tickets.
Federal and state governments, reliant on tax revenues from legal gambling and on lottery ticket sales, will do nothing to halt the expansion of the industry or the economic and psychological toll it exacts on those in financial distress. State-run lottery games had sales of $73.9 billion in 2015, according to the North American Association of State and Provincial Lotteries. This revenue is vital to budgets beset by declining incomes, deindustrialization and austerity.
"State lotteries provided more revenue than state corporate income taxes in 11 of the 43 states where they were legal, including Delaware, Rhode Island, and South Dakota," Derek Thompson wrote in The Atlantic. "The poorest third of households buy half of all lotto tickets," he noted. Gambling is a stealth tax on poor people hoping to beat the nearly impossible odds. Governmental income from gambling is an effort to make up for the taxes the rich and corporations no longer pay.
Slot machines and other electronic gambling devices are engineered to draw us into an Alice-in-Wonderland rabbit hole. They, like our personal computers and hand-held devices, cater to the longing to flee from the oppressive world of dead-end jobs, crippling debt and social stagnation and a dysfunctional political system.
We frantically keep pulling levers until we are addicted and finally entranced by our compulsion to achieve fleeting, intermittent and adrenaline-driven rewards. Much like what happens to people using slot machines, the pigeons or rats in Skinner's experiments that did not know when they would get a reward, or how much they would get, became the most heavily addicted to operating the levers or pedals. Indeed, Skinner used slot machines as a metaphor for his experiments.
The engineers of America's gambling industry are as skillful at forming addiction as the country's top five opioid producers—Purdue Pharma, Johnson & Johnson, Insys Therapeutics, Mylan, and Depomed. There are 460 commercial casinos, 486 tribal casinos, 350 card rooms, 55 racetracks and hundreds of thousands of gaming devices, many located in convenience stores, gas stations, bars, airports and even supermarkets.
The rush of anticipation, available in 20-second bursts, over hours, days, weeks and months create an addictive psychological "zone" that the industry calls "continuous gaming productivity." Heart rates and blood pressure rise. Time, space, the value of money and human relationships hypnotically dissolve. A state of extreme social isolation occurs.
Gambling addicts, like many addicts, are often driven to crime, bankruptcy, and eventual imprisonment. Many lose everything—their marriages, their families, their jobs, their emotional health and sometimes their lives. Gambling addicts have the highest rate of suicide attempts among addicts of any kind—1 in 5, or 20 percent—according to the National Council on Problem Gambling.
Donald Trump is in large part a product of gambling culture. His career has not been about making products but about selling intangible and fleeting experiences. He preys on the desperate by offering them escapist fantasies. This world is about glitter, noise, and hype—Trump called the Trump Taj Mahal, his now-closed casino, "the eighth wonder of the world." The more money you spent, the greater your "value," the more you were pampered, given free hotel rooms and gifts, handed passes to special "clubs" with lavish buffets. Scantily clad hostesses hovered around you serving complimentary drinks.
If you spent big, you were invited to exclusive parties attended by supermodels and famous athletes. Decorated chips—some featuring a photo of Donald Trump—turned cash into a species of Monopoly money. But in the end, when you were broke when there was no more money in your bank account and your credit cards were maxed out, you were thrown back, in even greater financial distress, into the dreary universe you tried to obliterate.
Roger Caillois, the French sociologist, wrote that the pathologies of a culture are captured in the games the culture venerates. Old forms of gambling such as blackjack and poker allowed the gambler to take risks, make decisions and even, in his or her mind, achieve a kind of individualism or heroism at the gambling table. They provided a way, it can be argued, assert an alternative identity for a brief moment (escapism). But the newer form, machine gambling, is an erasure of the self. Slot machines, which produce 85 percent of the PROFITS at casinos, are, as the sociologist Henry Lesieur wrote, an "addiction delivery device."
They are "electronic morphine," and hearing more and more described as "the crack cocaine of gambling." They are not about risk or about making decisions, but about creating somnambulism, putting a player into a trancelike state that can last for hours. It is a pathway, one sociologist points out, to becoming the walking dead. This yearning for a state of nonbeing is what Sigmund Freud called "the death instinct." It is the overpowering drive by a depressed and traumatized person to seek pleasure in a self-destructive activity that ultimately kills the organism…
Please Visit Truthdig – There Is Much More To This Article.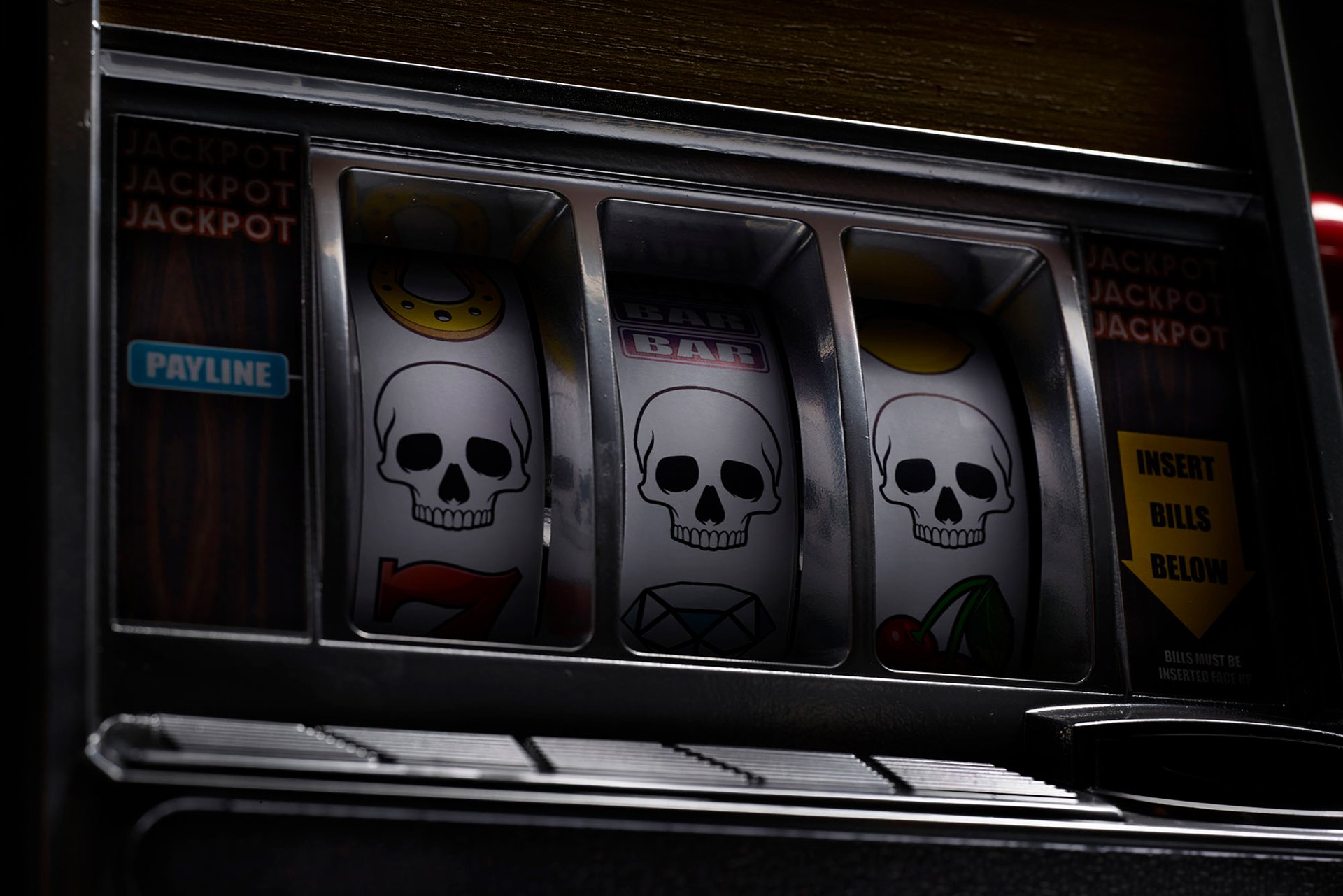 "Gambling Addiction is the Addiction #1 In Claiming Lives By Suicide"
Why is gambling addiction with slot machines considered as the highest form of addiction with gambling?
Psychologists have specifically designed these devices in order to attract people.

The new formats of multi-line electronic slot machines contain colors as well as graphics that are very stimulating and compelling to the eye.

Music is very stimulating as well with a strong suggestion that penetrates subliminally.

With the emerge of bonus rounds there is a great deal of rush involved even if there are many loses occurring.

The play has a speed that allows your adrenaline to pump faster.

With the jackpots, there can be huge winnings, but they happen so rarely just for the sake to keep people gambling.

Slot machines can induce hypnosis inside your brain that is hard to resist.

There are no skills involved in the play, making this gambling accessible to everyone.

Many ATMs are placed in the vicinity of slot machines for obvious reasons.

A lot of slot machines use from 1 to 5 cents to make gamblers think they do not spend too much money on their already outlined gambling addiction.
IF YOU or someone you care about has a problem with gambling? Please visit my good friends at The National Council on Problem Gambling as they have help by each STATE. National Helpline1-800-522-4700
WWW.NCPGAMBLING.ORG/CHAT
Click the icon below to chat with a helpline specialist. If you would like to call the helpline specialist, dial 1-800-522-4700 and if you would like to text the helpline specialist, text 1-800-522-4700. NCPG also supports GamTalk, a


Author & Recovery Freelance Writer,
Catherine Townsend-Lyon  🙂