….
WELCOME Recovery Friends!
One of the best things I did for myself, my recovery, and mental and emotional health is having therapy kitties! Lol. I have three and I love them so much. They help give me focus and purpose in taking care of my Cats. But let's learn the real difference between a Real Service Animal vs Therapy Animals.
My recovery guest Aurora explains what is a "Therapy Animal?" And be it in recovery, having mental or emotional challenges, and especially for those who have disabilities.
ALL ANIMALS DO bring us such JOY and can Save a Life … ~Cat
…..


(My Mr. Boots and his Box!)
…..
What Really is a Therapy Animal? 

In the past, up until a few years ago, the only types of services animals you regularly heard of, were actual service animals. Mainly dogs who would help their owners who had major physical disabilities.
…..
Over the past few years, the topic of service and therapy animals has increased at an alarming rate. An even more alarming thing is the number of people who were suddenly registering and claiming their pets to be service animals. It's kind of a hot topic, so what really is a therapy animal?


Service vs Therapy
A service animal has to go through intensive training before being certified as a service animal. One of the biggest distinguishable features between an actual service dog is they are actually trained for a specific purpose. The ADA website states that a service animal is a dog that is individually trained to do certain work or specific tasks for their owner who has a disability that they are unable to do for themselves.
These tasks can include things such as pulling a wheelchair, retrieving an item that has been dropped, reminding them to take their medication, pushing the elevator button, or alerting a person to a sound. Without these service animals, these individuals would not be able to live with the same level of functionality.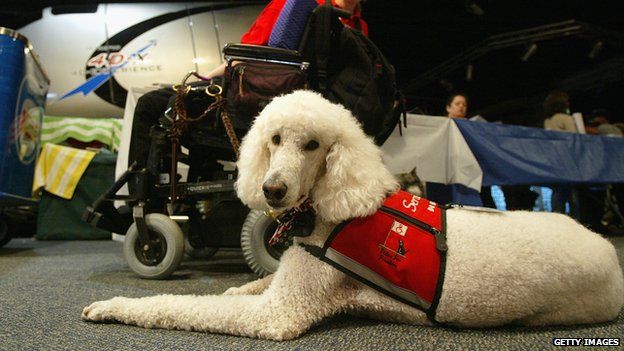 Emotional support animals, comfort animals, and therapy animals are not service animals. This doesn't mean they don't serve a purpose, but they are not a service animal. In addition, animals that are not dogs are not considered to be service animals in almost all cases. If someone comes to you and claims that the iguana on their shoulder is their service animal, it is in fact, not a service animal. They may find comfort in their pet iguana, yes. A certified service animal, it is not.
Registration for a Therapy or Comfort Animal

The ADA recognizes that a therapy or comfort animal can indeed provide comfort and are often used as part of a medical treatment plan. But the ADA website very clearly states that any sort of therapy or emotional support animal is not a service animal.
……
Strictly speaking concerning animals that are considered to be a therapy or comfort animal, there is a specific process that has to be followed in order for them to be considered a therapy or comfort animal. There are a lot of websites that will send you a service animal vest and a card stating that your pet is a service animal, but these services are actually illegal.
…..
In fact, receiving any sort of certification or registration completed online is not only illegal, but it makes it hard for actual service animals to be allowed in public places, due to the saturation of claimed emotional support animals being toted around in public as if they are trained to do anything aside from providing comfort.
…..
Often, someone will illegally register their pet as a therapy animal in hopes of them "legally" being able to have them in a rental unit that doesn't allow pets.
The only legal way to have a pet be considered a therapy or comfort animal is to have a psychiatrist prescribe them as such to you. Most psychiatrists won't accept patients if this is their sole purpose for treatment, and will only prescribe dogs to previously existing patients.
These prescriptions also expire, as the purpose of an emotional support animal is to provide comfort during a healing period, and you will have to be evaluated on a yearly basis before your prescription to your therapy animal can be renewed.
"Therapy Animal" is a Loose Term
More simply put, a therapy animal doesn't really have more rights than a regular pet does. And most importantly, if you bring your therapy animal into public and they misbehave, a business has every right to eject you without warning.
This rule is the same as real service animals. However, more and more businesses are likely to turn away a real service animal due to bad experiences with a therapy animal.
Let's keep it simple for those with legal disabilities to have those "rights" with fewer problems or complications of their importantly needed "Legitimate Service Animals." 
~Aurora M.
…..
##############
…..
I wanted to add …that my three cats are "Emotional Therapy animals and ae part of my overall mental and emotional managed care plan. We are currently getting ready to move into a new townhome and complex and they as a courtesy waving my pet deposit and the monthly pet fee as they got a letter from my doctor verifying that my pets are for my overall health and emotional well-being.
And our move will is also an important part of my feeling safe as it's a gated community and will have a bigger place to live and that too will help my overall emotional and mental health as having challenges with Depression – Agoraphobia, and Anxiety … ~Cat
……