With another Super Bowl and the Biggest Gambling month before and after this event is now upon us …
What does this mean?
Well, for those who may have a gambling problem and now bills passed in some states that legally OK'D online Sports Betting? It could mean they may cross the line into full-blown addicted gambling as Sports Betting has been growing!
Now with recent laws passing for and against sports betting online, but a stark warning from a dear friend of mine and fellow author, Mr. Arnie Wexler. Arnie is one of the foremost experts on compulsive gambling in this country still today and has been helping compulsive gamblers and their families for over 30 years along with his wife Sheila.
Arnie is a certified compulsive gambling counselor (CCGC) and is the former "Executive Director of the Council on Compulsive Gambling of New Jersey" for eight years. His wife, Sheila, was a consultant and presenter on the subject of compulsive gambling addiction when they ran Arnie, and Sheila Wexler Associates and now both are retired, except for their advocacy work.
Arnie still owns and runs a National Gambling Hot Line 1-888-LAST-BET, and he can find you help from problem gambling. Heres an essential interview and quotes by Arnie Wexler he wanted me to share about:
The Super Bowl, Gambling, and Sports Betting
"Football's biggest game offers the greatest temptation to sports gamblers.
And now people can place a bet legally in some states which is more detrimental to compulsive gamblers." Arnie Wexler explains.
"The Super Bowl is to the compulsive gambler what New Year's Eve is to the alcoholic," this from a leading expert on the subject of compulsive gambling and a recovering compulsive gambler himself. According to the National Gambling Study Commission, there are 5 million compulsive gamblers and 16+ million at risk in just the United States alone.
"I have spoken to more compulsive gamblers than anyone else in America and have gotten hundreds of phone calls after playoff games and the Super Bowl from compulsive gamblers," Wexler says. "Some have spoken about embezzlements, white-collar crimes and destroying themselves and their families. Others were so desperate that they were contemplating suicide. "
"Over the years, I have also spoken to college and professional athletes who had a gambling problem," Wexler says. " Even two players who have played in the super bowl … An NCAA study a few years ago noted that there is a disturbing trend of gambling among athletes in colleges now today. Do you think that these people will get into the pros and then stop gambling? "
"Compulsive gamblers are very vulnerable during the NFL postseason because they are looking for the 'lock bet to get even.' Wexler says. "The media hype juices the gambler and — as this is an impulse disorder — many compulsive gamblers will be in action. And I wonder if any players might have a bet on the games already."
"With all the games and the media hype about odds and betting lines, there is an explosion of betting on these games," Wexler continues. "I can't believe that newspapers carry ads from these so-called handicappers, who are really 'scamicappers.' It's also interesting to note how often the information is incorrect. "
"Why do you think the NFL gives out an injury list every week?"
"I remember when Skip Ballis, then of the Dallas Morning News, had a gorilla in the Dallas Zoo make football picks for them," Wexler says. "The gorilla's picks were doing better than the sports writers. I think the responsible thing to do would be for newspapers, radio and TV shows to carry a public service message about Responsible Betting. "
<<<<<<
——-
Here is a little more about my friend Arnie and Sheila Wexler:

<<<<<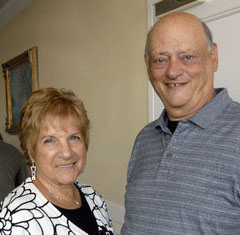 <<<<<<
He is a recovering compulsive gambler who placed his last bet on April 10, 1968. He has been fighting the injustice of how sports, society and the judicial system deal with compulsive gamblers for 50-years. Sheila is the expert of what the spouse goes through when you live and are married to a Compulsive Gambler. The family perspective so to say.
They both have done and have been on many national news stations like CNN, 60 Minutes, and ABC Nightline. You must give Arnie's newest book a read as well and is titled "All Bets Are Off: Losers, Liars, and Recovery from Gambling Addiction." It garnishes over 60+ 5-stars on Amazon and is a fantastic read and insights about this addiction.
<<<<<

Another Friend of Mine has been to battle many times and continues today with what is being done through legislation and "Predatory Gambling." That is Mr. Les Bernal  National Director … Les has been National Director since 2008 when the national network grew into the organization of the now  Stop Predatory Gambling . Org
Here is what Les has to say a little about the Finacial Drain on Americans due to Sports and all betting:
How Online Gambling Drains Millennial Finances:
Gambling has been normalized among young people and is an unconscious drain on their cash. The constant temptation of having a gambling app in your pocket leads to a stream of spending that's hard to control. Phones are distracting enough as it is, whether it is the unanswered WhatsApp messages in your pocket or 200 Instagram pictures you've yet to like. Now betting companies are exploiting the iPhone generation's obsession with our phones to hook us into betting more, and more frequently.
According to Financial Times, more than one-fifth of 18 to 24-year-old's confessed to gambling in 2017 …
Please go read this full article and learn more: View Original Article 
Les recently spoke to legislators and this link you can watch a quick video of Les speaking about the current stats and the financial drain ALL Gambling is putting on Americans including now legal online sports betting options. It is very powerful and makes your jaw drop when we are looking at now: "The American people are on course to lose $1 trillion over the next 8 years" A Must Watch!
<<<<<<
https://www.stoppredatorygambling.org/the-american-people-on-a-collision-course-to-lose-more-than-1-trillion-over-the-next-eight-years-testimony-of-les-bernal-before-congress/