I am happy to support my dear friend Author, Tony Roberts and his fundraising campaign to begin a new Mental Health Podcast as he needs our support and kindness in the form donations that come with perks! So I hope you will join me as they can be made here:  "Revealing Voices – The Mental Health Podcast"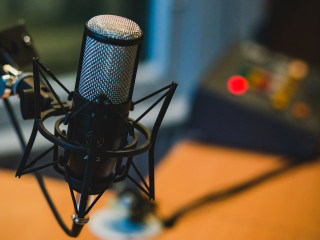 And like Tony shares in his new post, this new one about to share, I too have had some "holiday blues and depression" the past few days. Is it because I just turned 55 the other day? It is just another little mental health cycle? I'm not sure, but knowing my buddy has too? makes me feel that I am not alone as Tony shares…
Overview of New Podcast Coming and You Can Help Make It Happen!
Several podcasts touch on mental health. Others bring up topics of faith. We offer a unique faith-based, peer-led perspective. This is a project that has been born out of our own need and a recognition of the needs of others. Revealing Voices will dig deep and share honest stories of ways faith and mental health care can work together to promote healing. We also offer humor. We don't take ourselves too seriously. Like the Apostle Paul on lithium or Sigmund Freud at a weekend revival.  🙂
Many people with mental illness feel alienated from faith communities. Many faith communities fail to understand the value of mental health care. We have lived in both worlds and found both to promote healing. Prayer and pills. Worship and therapy. Bible study and support groups. Revealing Voices (the podcast and website) will build a community where people listen to and dialogue with others who have been impacted by mental illness and struggle with faith. We don't pretend to have the answer, but we will raise your questions and share your prayers.
We need your financial support for the equipment needed to produce a quality podcast, including:
* MacBook Pro
* (2) Shure SM-58 microphones
* Cables, stands, accessories
* (2) Headsets
* Equipment for broadcasting phone calls
* Marketing to make a greater impact in a broader area.
* A portion of donations exceeding our goal will go to NAMI-Faith Net.
Studies show that at least 20% of the US population struggles with a mental health issue. Research also suggests that very few pastors and churches are equipped to address the needs of persons with mental illness. Your contribution will foster dialogue that offers hope for people who have troubled minds. Hope.  Compassion. With your gifts, you can invest in this vital mission. 
If you are not in a position to make a financial gift at this time, we get it. There are other valued ways you can support our mission:
* Pray. Prayer is not a magical panacea to manipulate giving. Yet, through prayer, needs are met.
* Share. Tell others about our project. We'd be delighted if you'd put it on your social media.
We want to express our gratitude for your support, so we are offering a wide variety of bonuses, from a "Making of Revealing Voices" audio recording to signed copies of Delight in Disorder and Watershed. Up to an opportunity to dialogue with us on the show. 
Our Revealing Voices campaign is going well. We have raised $700 towards our goal of $3,000 for pre-production equipment to launch our podcast in March. Based on our research and personal contacts, we firmly believe such a program will meet a great need in a unique way.
We will be perhaps the only faith-based, peer-led, story-driven mental health podcast on the net. On this Giving Tuesday, we hope that many who value our mission will contribute — through praying, sharing, and giving. Your support is much appreciated.  🙂
"I have been mired in a holiday depression. I texted a friend about it and we had this exchange"
+     +     +
Friend: What do you think started the decline. Let's break it down.
Me: Nostalgia over past holidays. They were not likely as good as I remember them. But my loss still seems palpable.
Friend: In Hebrews, the author talks about hearing God's voice. and entering God's rest. He ends up talking about the power of God's Word. That has helped me. The idea we can enter God's rest here — today.
Me: I'm not really connecting with the "rest" part. It's more like I sleep and lie in bed to escape.
Friend: Would you say that nostalgia over past holidays is fundamentally a belief that there was a time when God was with you, and now God is not?
Me: I have always believed God is with me, even now. But now I feel God's anger.
Friend: Can God be angry with his beloved child?
Me: No. I mean it's different after Christ's sacrifice. I know this, but I don't feel it.
Friend: You may not, but it doesn't change the Truth. So, first, you feel unloved.
Me: Maybe. It's more that I feel unworthy of love and I'm not accepting grace.
Friend: Do you believe that thought was the seed for the decline? Unworthy and not accepting grace.
Me: Yes.
Friend: Do the holidays increase feelings of unworthiness and lack of grace?
Me: You're right. I just feel numb. And my gut is wrenching.
Friend: I know. Do you have to write tonight?
Me: I don't have to write, but I could write about something less personal, like a book review.
Friend: What feels most loving to you?
Me: The question I raise is what would be most helpful for my readers? Holiday depression is a real struggle for many of us with mental illness. If I could make some sense of it, I think that would help me and others. Doing at least one thing each day to engage others helps me feel better about myself. At the same time, I need to be careful that what I put out doesn't bring other people down with me. I want to uplift.
Friend: Unlovable would be a good topic.
Me: Good. "Loving the Unlovable."
Friend: I like that idea.
Me: Okay. Do you mind if I work something up and send it for your review? I don't trust myself when I am off.
Friend: Good idea!
+     +       +
But God demonstrates his own love for us in this: While we were still sinners, Christ died for us. (Romans 5:8)
I don't feel lovable, but I know that in Christ God has loved me. This knowledge gives me a reason to get out of bed each day. Even if it is 4 pm. Even if the voices inside my head are telling me God wants no part of me. Even if I feel like shit and don't want to do anything. Even if the thought of going for a walk, making my bed, or taking a shower seems like running a 3-minute mile.
God does not compare me to my previous self. God does not measure my goodness according to any standard others set for me. By the grace of Jesus Christ, God loves me even when I feel unlovable.
+      +      +
Help us bring the message of faith to those struggling with mental illness. Pray for that we meet our Indiegogo campaign goal. Share our page on your social media. Give according to what you have received and how much you value our ministry. (To give, click on the title below. It will direct you to our Indiegogo page where there will be a button that says, "Back it.")
Revealing Voices: The mental health podcast raising unanswered questions, sharing unanswered prayers.