….
Not everyone will be having a 'Happy 4th of July' even as we are living in uncertain times and in the middle of a growing COVID-19 pandemic, still, it seems even with all the unrest happening and groups of protesters chanting about these lives and those lives matter. Has anyone stopped to think about the lives of those who are spending another 4th of July HOMELESS? Probably not.
Why is it that those who are less fortunate are the FIRST to be FORGOTTEN ABOUT? What is the first thing YOU THINK when you see a person a man or woman pushing a shopping cart with the only belongings they have? I know and so do many but you say it. But I will.
Did you know that many of those lives affected by having no place to call home and that there are a variety of homeless populations which includes families, adult men and women, mothers and their children, persons living with HIV/AIDS, individuals overcoming substance addictions, and some who are physically and mentally disabled? Don't they deserve dignity?
DO THEY NOT Deserve help in areas of economic, emotional, and spiritual well-being in order to enhance their confidence and self-esteem and have a sense of personal pride? YES.
So I'm sharing a letter by one of my awesome friends who lives in Oxnard, CA., in Ventura County. He wrote and sent to some city council officials as he has been tirelessly speaking out and speaking up for those who are not The Least, The Lost, and The Homeless who feel Hopeless …They are human beings like all of us. So meet P W (Peter Robinson).
Peter also advocates through FAITH and knows that is a little unconventional and makes some officials uncomfortable but those who are homeless come from all walks of life, are part of our humanity, and they deserve to have hope for their future. Many times low self-esteem and shame stop them from speaking up or looking for help and services.
Maybe the stigma and labels need to be removed and not used. I'm guilty of it, but not purposely called them the homeless in an intentional negative way. And like other groups of people like protesters for "Black Lives Matter," "All Lives Matter," "Police Profiling & overuse of Force" well, those lives of people who have to live on the street or in a shelter and not always by their own doing, don't their Lives Matter?
THEY SHOULD MATTER FIRST…
Here is part one of a two-part letter (email) P W wrote and emailed to many officials and a few newspapers and officials who run a shelter called "Mercy House"…I will share more of my thoughts tomorrow when I share PART TWO.
Please share your comments and thoughts with us!!
……

…….
To whom it may concern:
I'm very heartened to hear a rumor of a decision to purchase local motels and provide some housing for our most vulnerable residents. I'm writing today on behalf of the Mercy house shelters, in order that all facts are before the council and others as they deliberate future allocations of money and compassion.

A homeless shelter–the concept itself– is the most significant healing initiative there is, and the godliest and compassionate instinct a community can ever have.

By, literally, sheltering people from danger, and hatred, and hunger, and fear, a homeless shelter provides an immeasurable contribution to a world in desperate need of warmth and compassion and directly saves lives each and every day.
The biggest ongoing and debilitating dangers to the homeless are hopelessness, depression, and suicidal instincts. The item that we lack most is competent mental health care or any at all.
It's a thing that affects all poor people–dramatically lower levels of mental health care. We're never even given a test for a diagnosis, the first step actual healers and doctors always take.
It's the thing that keeps the gulf wide between the haves and the have-nots. I know because I've received treatment while in each condition. The homeless don't recover because we don't receive the tools necessary to do the job.
"Accountability"
The most abused and misunderstood term in the healing world. In the case of the homeless, by not providing any competent mental health care, then giving up when that person can't complete the dozens of small tasks necessary to finding housing, we're asking a person with a broken leg to walk on it until we're satisfied or sleep outside on the ground. "Fill out these forms in a timely manner, or sleep outdoors."
It is, bar none, the cruelest and most useless term in the language of the enemy. It's because it has a fluid definition, and these standards are being applied arbitrarily, according to the lack of understanding inside one individual for another.
Personally, I've done my part long ago, submitted my paperwork correctly, and await the news that something might be available that I can look into. We have several folks in here with housing vouchers and nowhere to use them. We're backed up with qualified applicants, and have been almost since the beginning.
We've all done our part and are fully 'accountable', by any definition of the word.
I was healed of this condition before I contracted the disease, so to speak, in an in-patient setting–so I function as someone out in the world. I have no vices or bad habits, I don't break the law or steal or abuse anyone, I simply don't have housing.

…..
……
Those descriptors apply to most of the folks inside this shelter. We don't fit the profile of who you hate, but we'll suffer in exactly the same ways when local services are reduced or discontinued. The only difference between myself and most others out there is that I've had treatment for my conditions.
It's why the Peer system is one of the few known successful methods of helping. Absent actual quality mental health care, peers–formerly homeless folks, now recovered and well-versed in the red tape production necessary to moving forward–are a necessary component in generating forward momentum.
 
"Mercy House at the Armory"
…….
Despite words to the contrary, from people with other agendas, the Mercy House effort at the Armory in Oxnard has been an ongoing success. For each person here who is 'taking advantage of or abusing the system and another flat-out misconception–there are four or five of us who are taking advantage of this opportunity to heal and grow and come up and out of this quicksand, this ongoing nightmare.
Those who sleep in here much of the day–very few of us, the majority older and disabled–have so much pain when they move around that not moving around seems the better choice, and all-day sleepers are submerged in depression and hopelessness, or recovering from recent horrible trauma.
Those who use meth are in a hopeless state, period. Bored to tears, no way to climb out, no potential positive outcome, no loving moment on the horizon… meth provides a way for folks to kill themselves without admitting that's what they're doing. In exchange for brief moments of euphoria, everyone who uses meth is utterly miserable, before and during, and the hangover and shame innate to the experience can last for weeks.
"They have no hope because they've never been shown any reasons for hope." 

….
.
The staff here has been brilliant beyond compare. There was no template for a pandemic for homeless shelters, and they've adjusted to changing and difficult situations on the fly, with grace and compassion. The leadership is rock-solid and has been since the beginning. Without naming everyone I'd like to, we have truly been blessed with gifted, dedicated healers in here, doing their work at a level far in excess of their compensation.
In my opinion, it makes the most sense now for Mercy House to take control of the Community Action Project, and all homelessness-related new initiatives in Ventura County. You've installed them in a position of frontline healing and real influence–let them do what they do. I have some fundraising ideas if that's what is needed.


"Low-barrier concept."
'Low-barrier' in a homeless shelter simply describes the process of checking in for the night–we don't use a breathalyzer. Unfortunately, there is no breath test for meth, not that I would want those folks forced outdoors necessarily, either. Leaving people outside because they have a booze or drug issue is about as cruel as a thing can be, and there are very few in here who have those issues, anyway.

In fact, at this time, I'd say we have less than 30% in here who use anything except marijuana, if that, which is an essential healing treatment for ADD, ADHD, and general depression, and is prescribed by doctors.
At this very moment, sitting on my bunk, I see teachers, engineers, managers, brainiacs. A black man who owned a fleet of taxis. I see a doctor, an architect, artists, and several musicians. A professional comic, a groundbreaking female mortgage broker, the founder of a local Animal Rescue biz. I can go on and on. No one in here is ordinary. Or anywhere, come to think of it.
When I talk to people who don't know anything at all about homeless shelters, having never slept or worked inside of one, I'm often struck by their idea that it's some kind of cushy ride. I assure you, it's anything but that.
 
"An Experiment"
…..
As an experiment, let's take 100 of you indoors-dwellers, strangers to each other, and move you into one big room, double bunked.
Let's make half of you physically challenged or full-on physically disabled, with walkers and canes and wheelchairs, as is our demographic. By necessity, we'll use a building with limited bathroom accesses, and limited ADA facilities. Of the remaining population, all will have mental health conditions–some legally disabled, most undiagnosed and untreated.
How will you do, all alone with these strangers, with no place to hide your emotions? With no place to cry? I can tell you I've walked up on real tough guys, the hardest men you'll ever meet, hidden down an alley, crying their eyes out for all they've lost. Men among men, weeping like children.

…..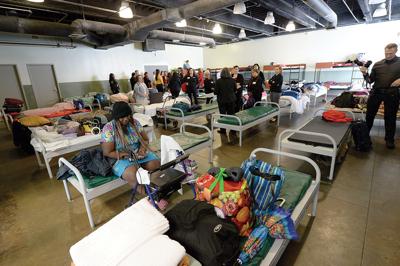 ……
Ladies…how would you feel?
….
If you're like most of my female roommates, you've had a long and successful work life, you've been an entrepreneur or business owner, you're at minimum a former high-performer. You've raised children, and often buried some.
Now, you're injured, legally disabled, and you've had every single thing taken from you. Money, property, jewelry, automobiles: your friends and family, men in general, have taken it all from you, then abandoned you to wolves.
You've been beaten, raped, and beaten some more. Respect, love, friendship, trust–all beaten out of you until you have nowhere else to turn, nowhere to go but outside.

Now, you're standing in line in a homeless shelter waiting to use an ADA shower, everyone around you is immersed in their own suffocating crisis, and you're wondering what went wrong. You have no place to store personal food–there just isn't room for it here. There is one television tuned to a channel you may or may not like.

Welcome to their world–not "cushy", but a far, far safer and better world than the one that lurks just outside the door. Outside, they don't even let you use a bathroom. You have to walk for miles to urinate. There are no mirrors to fix your hair in. The outside world holds nothing but terror, hatred, and neglect. Outside, all those previous crimes, the beatings and rapes, against your precious heart and your mortal soul, continue unabated.
Try to imagine living without a door that you can close. That's what a lack of sheltering really means, for a woman. If nothing more, let's shelter the women of Ventura County, even if it's in some giant tents. We cannot be so weak as to not be able to handle that. It's impossible.
Thank you for reading. I stand ready to aid in any way I can.
With love and hope,
P. W. Robinson
Oxnard, Ca.